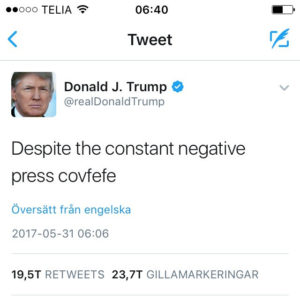 You already know that your job application materials should be error free. Misspell words, misname the university, or mistype the date? Your application will likely be rejected immediately. What you may not realize is that even a small error in other documents you write in the workplace can decrease your credibility.
Why does error-free writing matter? Lennox Morrison explains:
The humble typo not only has the power to make us appear less intelligent than we are. Poor spelling can also create confusion, a loss of clarity and meaning and in extreme cases it can cost millions in missed sales and job opportunities. It has the potential to wreck customer relationships and even ruin your chance of finding love online.
So the lesson here? Be sure that you proofread your writing carefully before sending it out to coworkers or clients. Even a typo in a Tweet can cause trouble. After all, you don't want to make the covfefe error of your workplace. At the best, you may only be laughed at. At worst, well, let's not think about that. Instead, double and triple check your writing every time!
To learn more about today's #FridayFact, read the BBC article The true importance of good spelling.
Screenshot credit: The covfefe tweet by Per-Olof Forsberg on Flickr, used under a CC-BY 2.0 license.
---