What Is Slack?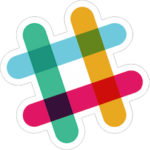 Slack is a team chat tool used by a variety of businesses to connect people online. We will use Slack for class discussion, real-time peer review conversations, and sharing updates on the course. If you are a tech geek, you may notice that the tool is similar to IRC.
Our Slack Team is at https://btw-f17.slack.com/. You can access Slack in your browser. If you like, you can also download a desktop or mobile app. If you want to stay on top of messages without logging in on the website, I highly recommend the mobile app, which will give you updates on your phone. Additionally, the mobile apps for Android and iOS are accessible to all students, while there are limitations for the web version.
Signing Up
Contents
Joining our course Slack team is easy:
Visit our team's signup page:
https://join.slack.com/t/btw-f17/signup
Use an @vt.​edu email address for signing up, or you will not be able to join.
Follow the on-screen prompts to finish signing up.
The Slack site has step-by-step instructions on Creating a Slack Account that you can follow as well.
Choosing Your Username
Use your first and last name as your username in our Slack team. For instance, a student named Jane Roe would choose the username @jane.roe.
Why? Your username needs to identify who you are to me and the class. Since this is an online class, the only way I have to get to know who is who is the name you use. If you are not using the name I can find in the gradebook, I won't be able to associate your participation into account when I assess your work.
Name-based nicknames are generally okay (e.g., Daniel Jones could choose the username @dan.jones or @danny.jones). You can also use your middle name if that is what people call you in person. To protect your privacy, do not use your PID or any other code or alternate name.
If you are cannot use your real name, you can contact me by email and we will come up with an alternative. I understand the need to be safe online, so do not stress if you need an accomodation here. Just contact me.
Tutorials
Slack has a "Getting Started for New Users Resource," which steps through the basic commands that you will use. Additionally, Lynda.com has a Slack course, which has useful sections you can watch to see the commands demonstrated. Lynda.com videos are free to Virginia Tech students. Login with your PID and password at http://www.olcs.lt.vt.edu/lynda/.
Posting
Posting is easy. Just choose the channel and type. There are formatting instructions that allow you to add bold, italics, and other features.
You can use emoji (though I don't promise to always know what they mean).
You can tag people by their usernames. Try out the tab key on your keyboard for auto-complete.
Linking
You can link to your posts in your Labor Logs. Follow the instructions to quote a message to find the link to your messages.
Searching
When you need to find a specific message on Slack, you can use the advanced search tools to locate what you need quickly. The Search in Slack page and the Advanced search in Slack page on the Slack site outline all of the details. There are additional examples in the Next-level searching in Slack blog post from SlackHQ.
Sharing Your Drafts
Please do not upload your files to Slack. We are a free team, so we are limited to 5GB for the entire class. That means that we don't have enough space to upload drafts of your writing projects. Instead share your drafts in Discussions in Canvas.
---