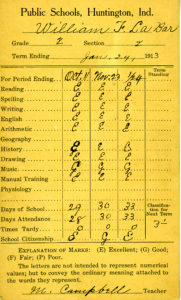 Friday, October 6 is the last date to drop classes and to change from A-F to P/F, so I wanted to remind everyone how grades work for the course.
Remember that grades are based on labor.
If you do the required work, you are guaranteed a B in the course.
If you do more than the basic requirements, you can earn a grade higher than a B.
If you do not do the required work, you will earn a grade lower than a B.
You can find complete details on the information how grades are tracked in Canvas, how completes and incompletes are indicated, and how to tell how you're doing in the post How Canvas Grades Works from the first week of classes.
Photo credit: W F LaBar Report Card by Arthur T. LaBar on Flickr, used under Public Domain (CC0).
---